Machination
Annie Lewandowski
Powerdove, the musical duo of Thomas Bonvalet and Senior Lecturer in Music Annie Lewandowski,  premiered three performances of their collaborative piece, entitled "Machination."
Regio (Royal)
Juan Manuel Aldape Muñoz
Regio (Royal) is a mobile performance that takes place in different public parks across Ithaca. This performance is ambulatory because the large puppets, 8-11 feet tall, are designed to attract audiences as they walk by. The performance is mobile in nature, making it adaptable for different spaces in light of the pandemic guidelines.
Fugue: The Sight
Hosted by Xak Bjerken
Cornell faculty poet Lyrae Van-Clief Stefanon and bassist Desmond Bratton will continue their 3-year collaboration on issues of race and spirituality and release a video of a new work, Fugue: The Sight made at Ithaca's AME Zion Church, followed by a zoom conversation with Cornell students and the community.
Locally Grown Dance 2021
Jumay Chu
Performers  will explore the vertical space of the Kiplinger Theatre. Untethered in these strange times, the dancers will climb to unsteady heights to explore new groundings to challenge the theater's conventions of physical relationships and to investigate beautifully and wildly the meaning of intimacy.
The Life and Work of Florence Price
Cornell Department of Music
This groundbreaking conference features research and performance on the life and work of Florence Price. In 1933, Price was the first African-American female composer to win a premiere with a major American symphony orchestra. Price never earned the posterity that she deserved, which was dictated by a culture that favored the music of white men. Recently, a large collection of her music and documents were discovered. Her notes reveal that she visited Ithaca, New York, and was in discussion with Cornell's "A Cappella Chorus" and the director of the Cornell Symphony Orchestra, Robert Hull.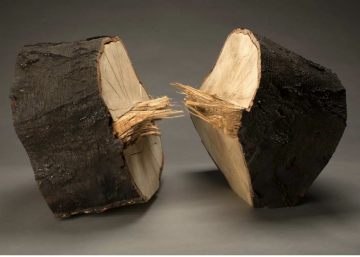 Severances
Jack Elliott
Co-exhibit in a multi-institute, arbor-centric exhibition with Sam van Aken, a Syracuse University artist. This exhibition was being curated by Jaroslava P, artist and director of the Dowd Gallery, SUNY Cortland. The premise for this project was to emphasize crossovers in approaches that increasingly appear in both visual arts and scientific disciplines. The combination of visual objects that are employing natural materials, science, technology, and art allows viewers to confront a new visceral experience of Nature that would not be otherwise possible.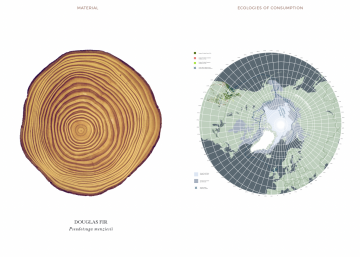 Ecologies of Consumptions
Zaneta Hong
This work provides a survey of material/food alliances, in the face of anthropogenic disturbance; presents issues of food insecurity/instability as a result of climate change and the (over)consumption of natural resources through the collection of texts, illustrations, photographs, maps, information graphics – culminating in a series of designed objects + video presentation – that engages viewers through a series of material/food narratives.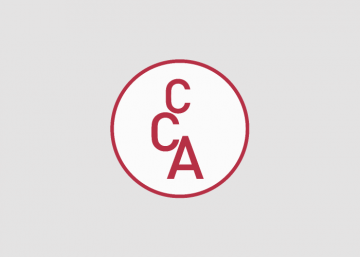 Cornell Solo Repertoire Festival
Chris Kim + Cornell Orchestra
Through a series of 12 speakers, we will address the serious inequities present in the institution of the orchestra due to its repertoire and systemic inequities present in the training of classical musicians leading to a lack of diversity in our orchestras. Instead of holding an annual Cornell Concerto Competition, our students will be invited to perform works by underrepresented composers who may be women, BIPOC, LGBTQ.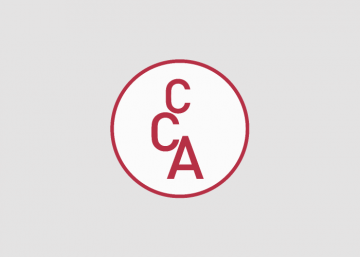 Off-Campus/On-Screen: COVID-19 and Inequality, A Virtual Performance
Rebekah Maggor, Jeffrey Palmer, Youngsun Palmer
A collaboration between documentary filmmakers Jeffrey Palmer and Youngsun Palmer, and theatre director and dramatic deviser Rebekah Maggor, Off-Campus/On-Screen is an interconnected series of short films that explore experiences of lockdown, pandemic, economic crisis, and protest, juxtaposing their differentiated impact on students from diverse backgrounds.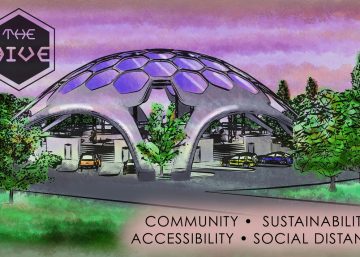 The Hive
Jason Simms
The Hive is a hypothetical indoor/outdoor performance gathering venue designed with community, sustainability, accessibility, and social distancing in mind; with design ideas presented virtually, participants will experience The Hive from home.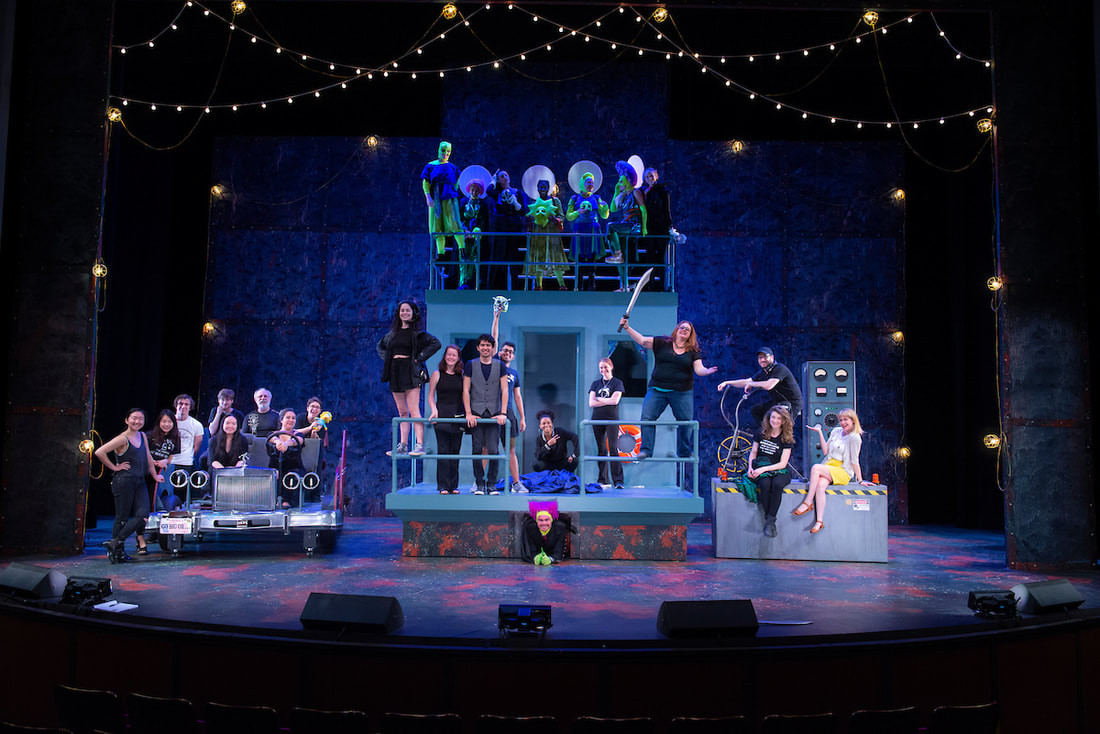 Virtual Vibrance: Making, Shaking, Breaking Performance
Association of Graduates in Theater
Cornell Ambassadors For Media and Performance (CAMP) in collaboration with Graduate Researchers in Media and Performing Arts (GRMPA) are producing three collaboratively crafted performances to be offered October 29-31st, 2020 as part of Cornell's Department of Performing and Media Arts (PMA) 2020-2021 season.
Using inclusive, collaborative models of performance-making, "Virtual Vibrance: Making, Shaking, Breaking Performance" features three devised performances led by BIPOC artists. The performances will take place virtually Oct 29-31 as part of the Department of Performing and Media Arts' season.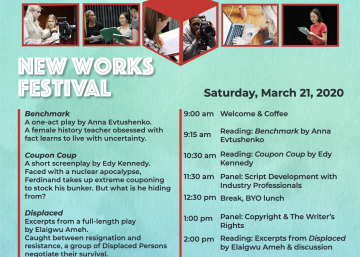 Benchmark
Anna Evtushenko
"Benchmark" is a play about a female history teacher; she is all about remembering and documentation — and then has to deal with Alzheimer's. It's a magical realism (or non-realism) story about her and the children she's found and lost. "Benchmark" was set to have a staged reading at Cornell on March 21, although COVID-19 prohibited an in-person performance.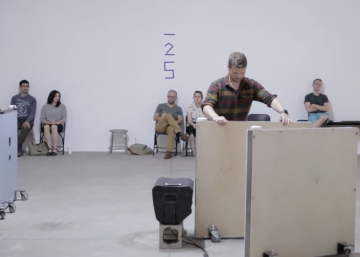 CCCP presents Wet Ink Ensemble: Distance and Diffusion
Cornell Contemporary Chamber Players
The Cornell Contemporary Chamber Players, a student organization committed to ensuring that Cornell remains at the forefront of contemporary music and performance practice, holds a 4-day virtual or semi-virtual collaborative residency with NYC-based Wet Ink Ensemble, "a collective of composers, performers and improvisers dedicated to adventurous music-making." The residency culminates in several world premieres of site-specific works performed in and around the Herbert F. Johnson Museum of Art.
BeMask'd: Wearable Art in the Time of Quarantine
Jenny Leigh Du Puis
This exhibition features wearable art masks and costumes created by the artist during quarantine to reconnect with her creative design practice and reflect upon the following question: In the time of COVID-19, how do we challenge and interrogate the position of face masks in our individual and collective experiences?
An Anthropology of Everything
Morgan Evans-Weiler
"An Anthropology of Everything" is a group show centering on the theme of conceptual uses of language and text to examine an individual exploration of the self in relation to the social. The production features an interdisciplinary and international group of artists such as Ryoko Akama (JP/UK), Asha Sheshadri (US), Bonnie Jones (US), Alex Hamrick (US), Natalie Neumaier (AU), Manfred Werder (CH), and Morgan Evans-Weiler (US). Artists represent an array of mediums that will include video, sound, drawing and sculpture to explore conceptual uses of original and found text and language in relation to themes of identity, duration, cultural criticism, poetry and nature.
Nineteen/19
Alexa Kanarowski
"Nineteen/2019" was started towards the end of 2019, when I had just a few months of being 19 years old left. As such, it was made to examine my anxieties about no longer being a teenager and leaving behind the second decade of this century. As a digital native, it feels natural for me to explore the concept of my data and my desire to take it into my own hands and control my data narrative. "Nineteen/2019" seeks to explore self surveillance and a creation of data that stems from a desire to archive myself and the events that occur, which is analogous to the way many people use social media.
Reparation and Decolonizing Aesthetics
Sabrina Haertig
"Reparation and Decolonizing Aesthetics" exposes the unacknowledged dangers behind modern aesthetic principles. Works ranging from installation, sculpture, painting, and digital media will create a dialogue connecting contemporary aesthetics to the injustices of neocolonialism and capitalism. In addition, the show represents the curator's attempts to synthesize the lessons they have learned in Art, Architecture, Information Science, and Public Policy.
Visiona 2022 - Back to the Womb
Farzana Hossain
This project is a response to the architecture building created for students that only accounts for aesthetic reasons instead of the comfort of a human being. Students were carefully interviewed, were asked about an ideal space for comport and care. The design was articulated after the deep research of Student's mental, physical and emotional health and well being. Our goal was to create a soft space where students can rest, nap or even hang out. It is placed in Milstein Hall, a building for architecture students, to give hem a place to rest after a long day in studio or crit to relax and to feel comforted.
The Absentee and The Gulf
Caitlin Kane
Caitlin Kane (PhD, PMA) presents a staged reading of Julia Doolittle's play, "The Absentee." Set in the Milky Way in the year 2088, an operator of a beacon that directs spaceships around the galaxy, finds herself alone in deep space with only her ship's A.I. for companionship. That is until a persistent canvasser calls desperate to convince her to vote absentee in the 2088 election. "The Absentee" poses urgent questions about grappling with grief, finding love, and democratic duty in a moment of unprecedented isolation. Caitlin later presents a staged reading of Audrey Cefaly's "The Gulf." On a muggy summer evening somewhere down in the Alabama Delta, Kendra and Betty troll the flats looking for redfish. Six years into their relationship, tensions and passions flare as the couple clash over past infidelities, life-choices, and job struggles. When their motor breaks, stranding them in open water under darkening skies, the couple is forced to grapple with the growing space between them and where their life together will go next. "The Gulf" won the Lambda Literary Award for LGBTQ Drama.
Instant Architecture: The Social Media Grid as an Infinite City
Justin Tan + Fernan Bilik
"Instant Architecture" is a concept that positions Architecture as an act. It is architecture as an event – an ephemeral experience transcending physical manifestations of structure. Social media, such as Instagram, enables different architectural events to exist all at once and everywhere. Modernity generates a new "infinite city" – the social media grid. Instagram's infinite grid is conceptualized as the new city-block or urban typology where different architectural genres reside. Free from the necessity of physical permanence as it inhabits the digital realm, instant architecture becomes the protagonist of the story, translating architecture into act through the performance of "posting". This project explores the "after" of the instant – how ephemerality in architecture is curated and captured within the current and future world of social networks.
Art + Material Science Collaboration
Tina Lam
Creation and display of sculptural artwork combining the crafts with advanced engineered material from the collaboration between the arts (MFA Candidate) and the sciences (PhD Candidates) within Cornell University. The proposed sculptural installation invites the audience to introspect on the perception of time and the cyclical passage of water and air which have shaped the contours of our surroundings. The installation will be composed of three components; a sculptural aluminum foil sheet resting against the floor and the wall on which the iridescent film will be adhered to represent cascading rocks and water, a hand-bent steel wire floor installation representing turbulent water streaming, and sculptural paper-maché installation suspended to the ceiling using fishing wire representing hovering clouds.
Humanity Reclaimed
Georgia Manning
This project is a collection of clothing that represents the theme of Humanity Reclaimed, in this uncertain time it is easy to gloss over the needs we have as human beings, I want to create work that emphasizes imperfection as what makes us who we are. In place of nurturing, we trick and deceive with love and food that is as empty as air. Society has confused the concepts of 'perfection' and 'happiness' so that everything we present to the world is in a sense 'frosted.' In this opaque view of reality, we lose our ability to see clearly just how much space we deserve to occupy and how deep we deserve to love. For these reasons I intend to use the medium of clothing to represent visually what we do as a society everyday: we accept the inflatable and the frosted as truth and as love. My collection is a quest to reclaim humanity by designing pieces that reflect a life of depth and true nourishment.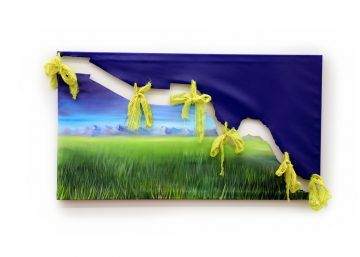 Presente
Paloma Vianey Martinez
"Presente" is an installation that promotes the positive influence of Mexican culture in the United States. Through the literal presence of prose, it attempts to highlight the colossal impact Mexico has had in the United States. Generally, the objective with "Presente" is to delete the wrong rhetoric imposed by the current U.S. President that Mexicans are "bad hombres" and that we "are not bringing our best." It also attempts to portray the United States as a home for millions of Mexicans. As an immigrant myself, it is assuring to know that I am not alone, and that several individuals sharing my ethnicity have found success, safety, and a home in this country.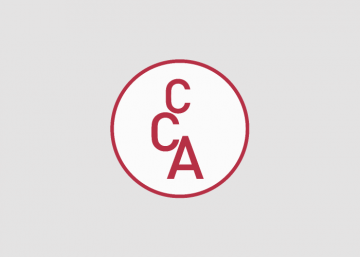 MakEar
Christine McDonald
MakEar is a podcast run by artists who interview current artists and/or interdisciplinary makers in the time of the pandemic; asking questions like what piece of art could you live with, and how are you finding new ways to make work happen. Artists give great advice, they give esoteric advice and they have a lot of creative ideas about how to keep going in times of uncertainty. Artists are scrappy, they get the "thing" done and they read a lot of different books – something we like to ask about in an interview. The mission of MakEar is to continue this process of remote interviewing and publish these snapshots of current living artists, of all ages and disciplines, to be shared and accessed by a larger community beginning with an audience at Cornell University. The process of these interviews gives selected artists a platform to not only connect but to share their practice and hopefully help sustain them and other creative listeners through this difficult time.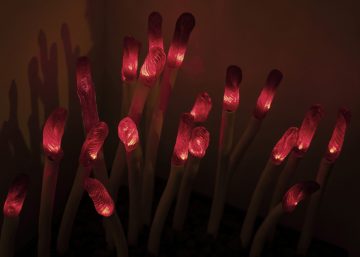 Midnight Zone
David Nasca
Midnight Zone is a sculptural environment based on hydrothermal vent communities as a metaphor for queer identities. Midnight Zone will feature sculptures that reference and expand upon hydrothermal vent communities. Design cues will be taken both from the morphologies of deep sea organisms and the queer underground and nightlife. Vinyl, latex, cast plastics, ceramics, leather, and LEDs will all come together to create an immersive installation that takes viewers to the bottom of the ocean and to the the darkroom at a disco.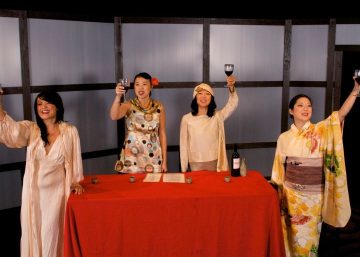 Asiamnesia
Sara Pistono
"Asiamnesia", written by Sun Mee Chomet, is an 60-70 minute, intersectional ensemble piece about the representation of Asian/Asian American women in film and on stage. It is an exploration of the stereotypes that plague Asian/Asian American actresses throughout their careers, as well as a celebration of their versatility and endurance. Through the inclusion of various historical figures, from Anna May Wong to Isabel Rosario Cooper, as well as a look into contemporary shows and castings, "Asiamnesia" discusses the politics behind Asian/Asian American representation in the American entertainment industry.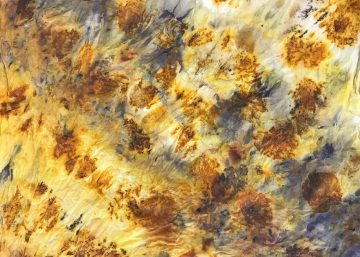 Working with natural dyes
Kat Roberts + Lynda Xepoleas
This workshop gives participants the hands-on experience of dyeing a silk scarf or cotton bandana, using plants from the FSAD Natural Dye Garden as well as food waste, while exploring the important role of natural dyes in sustainable fashion. A natural dye is created from plants, insects, minerals, or fungus and can be used to color textiles. The coloring components natural dyes produce are directly affected by their environment. Sunlight, water, soil, temperature and predation that occur in a specific location can alter a dye in dynamic ways, giving them the unique ability to infuse place into cloth. Both workshops are intended to help participants better understand the benefits of natural dye, as well as the natural dye process. Each participant will be given a mordanted 100% silk scarf or 100% cotton bandana and dyestuff collected from either Cornell's Natural Dye Garden or food scraps collected from Cornell's dining facilities.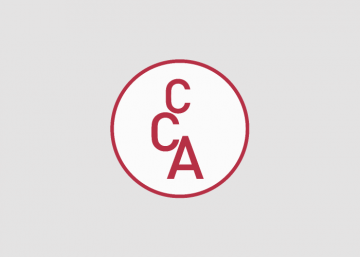 EXPANSIVE (IMPROVe)
KAR Robison
Expansive Improv that powers the struggle for freedom through music, poetry, comedy, history, video, photography and field recordings to improve our understanding of what freedom is and how to build community through this power. People power. Power to the People! Using video footage and photos from the past 10 years from Brazil, Uruguay, Argentina, Ecuador, El Salvador, Texas, NYC and Mexico. We will, through improvisation co-create music/poetry/vocals with four world renowned artist musicians (3 in NYC, 1 in Columbus, OH). The film, photos, poetry and art will be a montage to coincide with the collaboration of sounds from NYC that may include both a field recording with audience response as the music is played on the street, as well as, a studio recording and stand up comedy sketch in between.
Lost and Found
Yvonne Schichtel
An exhibition of an 8 piece collection of clothing representing the journey of finding new ways to use and think about objects in the wake of a complete restructuring of our identity as a society. This collection will explore a world where the traditional uses and meanings of objects are cast aside. When context is taken from object, what does it become and what does it mean? More importantly, how can this notion help us to overturn outdated systems and hierarchies in society.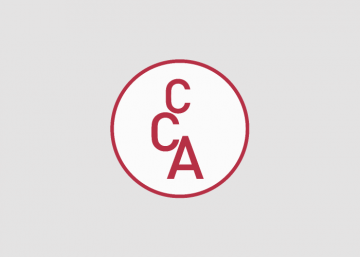 Verses in the Coronaverse
Annie Sheng
"Verses in the Coronaverse" is a collection of musings, thoughts and poetry penned about or during the COVID-19 pandemic from members of the Cornell community. We all experience and process major events in our own unique ways. In this age of social distancing, "Verses in the Coronaverse" seeks to bring social intimacy through connecting our individual experiences of the COVID-19 pandemic into a messy, but distinct narrative whole. By coronaverse, we mean the physical world during the COVID-19 pandemic, but also the expansive multitudes of universes we face… the virtual universe, the balled up versions of ourselves we stash away, the hopes and dreams of a future unfurling, the science that underlies our medical progress and advancements in face of unseen dangers.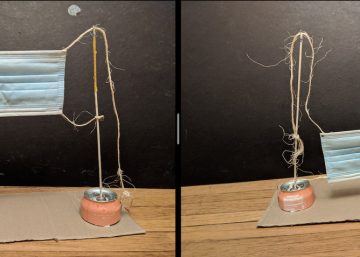 Perspectives of an Unmasked World
Adam Shulman
A reflection of intimacy, personal connection, spontaneous creation, varied perspectives, and intervention with our environment: two non-narrative videos, one featuring humans, the other a collaboration with nature, will be projected at night on the Schwartz Center and an adjacently installed sculpture.
Cornell MFA NYC Group Exhibition
Michelle Sinnigen
The Master of Fine Arts candidates at Cornell University are working individually and collectively toward an exhibition in New York City, which will be a culminating event of the academic year and serve as a unique opportunity for us to show our work together in a major art center. This exhibition also provides an important access point for MFA students and the larger Cornell arts community to connect with the vibrant and important art world in NYC. It enables current MFA students to connect to alumni, both from within the Department of Art and the greater Cornell networks, and to nurture such ongoing relationships.