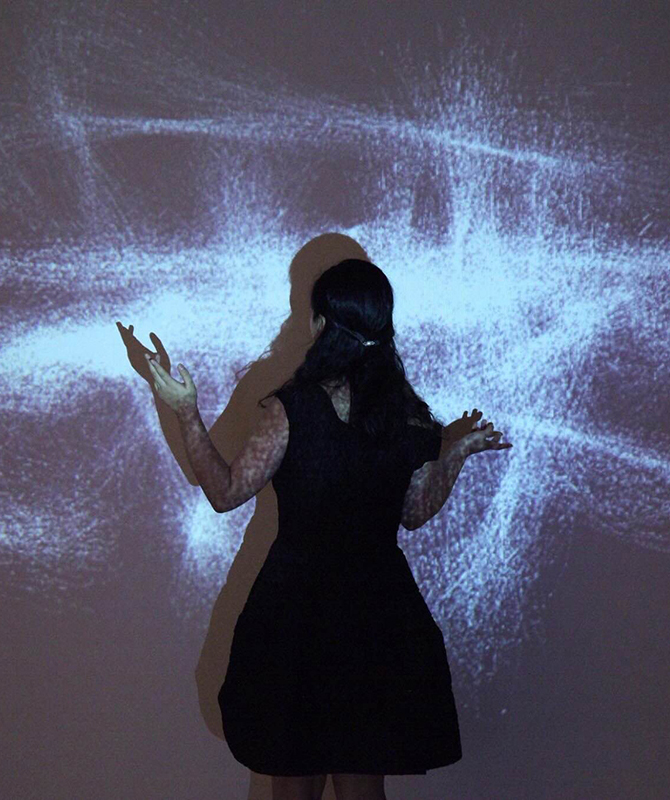 Underneath the Sibley dome, adjacent to the College of Architecture, Art and Planning Dean's Office, is Polyphony. It is an interactive art installation designed by Liu (Leo) Jingyang '15, Shining (Christina) Sun '17 and Yue Gu '16 — all current or former architecture students. To say that the project sounds interesting — "an interactive audio-visual installation that generates a simultaneous feedback loop between performance, image and sound" — is to say little about the installation. Yet, how does it actually look, sound and perform?
The inspiration for the project came from a variety of sources, but also seemed to be a product of organic, artistic growth. Sun comes from a family of art collectors. She hosted her first exhibition at 17 years of age, in Shanghai. She met her teammates at Cornell; Gu was her partner for Prof. Jenny Sabin's robotic fabrication studio, while Leo was the teaching associate. Drawing ideas from Prof. Sabin's work on digital fabrication, the trio was "interested in designing interactive experiences through design algorithms," said Jingyang. Prof. Sabin was the main advisor and mentor for Polyphony.
Despite the challenges, the exhibition was a definite success. The trio is now planning to show Polyphony at a gallery in New York City. As interactive installation is coming in vogue in contemporary art and the use of technology as an aesthetic tool is as prevalent as ever, we can expect to see many artists venture into digitalization and virtual reality. Architecture students, like the team of Polyphony, tend to understand the interplay of beauty and engineering like no one else does.
Continue Reading
Back to Press