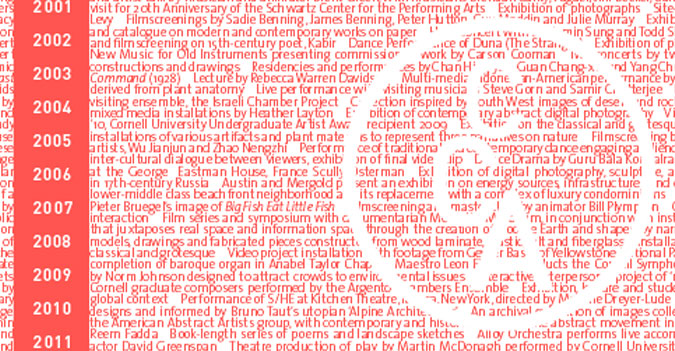 CORNELL COUNCIL FOR THE ARTS: 25 YEARS OF GRANTS
In 2011, the CCA created a catalogue to document and give highlight to its Grant Program. The book includes over 1,700 art projects produced and presented by Cornell student, staff and faculty artists, departments, programs and student organizations from 1986-2011.  Limited copies of the book are available by contacting the CCA Office.
FOREWORD
The Cornell Council for the Arts (CCA) began in 1947, as a committee to plan an annual Festival of the Contemporary Arts that involved the collaboration of departments in the creative and performing arts.  This concept established the inter-disciplinary nature of the arts community at Cornell, and the Council for the Arts has remained a conduit for the creative activity of an ever-increasing population on campus. In 1965, CCA founder, Professor of Creative Writing James McConkey, initiated a grants program intended to offset expenses to Cornell artists creating independent work beyond the classroom or workspace.
In the 1980's, this program expanded dramatically, largely due to the support of Provost Malden Nesheim, whose goal was to bring visiting artists-in-residence, and support projects such as Expanding Cinema, the Canadian Arts Festival, Nabokov, Schubert, Haydn and Czech Festivals, and Minority and Feminist Perspectives in the Visual Arts and Humanities, as well as grants to Cornell artists across the campus; students, faculty, staff, and student organizations. The success of this new initiative was made possible by McConkey, Professor of Music Sonya Monosoff, and CCA Executive Director Anna Geske , who held the post from 1976-2001, succeeded by current program coordinator, Pamela Lafayette.
Since that time, in keeping with its mission, the CCA has piloted many programs to diversify and deepen its commitment to Cornell artists.  While these larger projects have taken different forms, as outlined in the appendix of this publication, the grants program remained a consistent source of independent and competitive funding for the entire Cornell community.
As we look forward to the future of the arts at Cornell, we wish to thank James McConkey, Anna Geske, Kenneth McClane, Steven Stucky, David Feldshuh, Stephanie Vaughn, Lamar Herrin, Sonya Monosoff, Paula Horrigan, Bruce Levitt, and Milton Curry, whose stewardship of the CCA steered the way for these listed artists to create, innovate and engage.
And so we celebrate and document the past 25 years.
Pamela Lafayette                                                        Judith Kellock
CCA Program Coordinator (1991 – present)        CCA Interim Director (2008 – 2011)
With special thanks to Karen Chi-Chi Lin (Bachelor of Architecture candidate '13) and Rose Sacktor (Bachelor of Arts candidate '11), who assisted in compiling grant data.
The Council for the Arts website archives a partial listing of projects and images supported by the CCA (https://cca.cornell.edu).
Back to Press