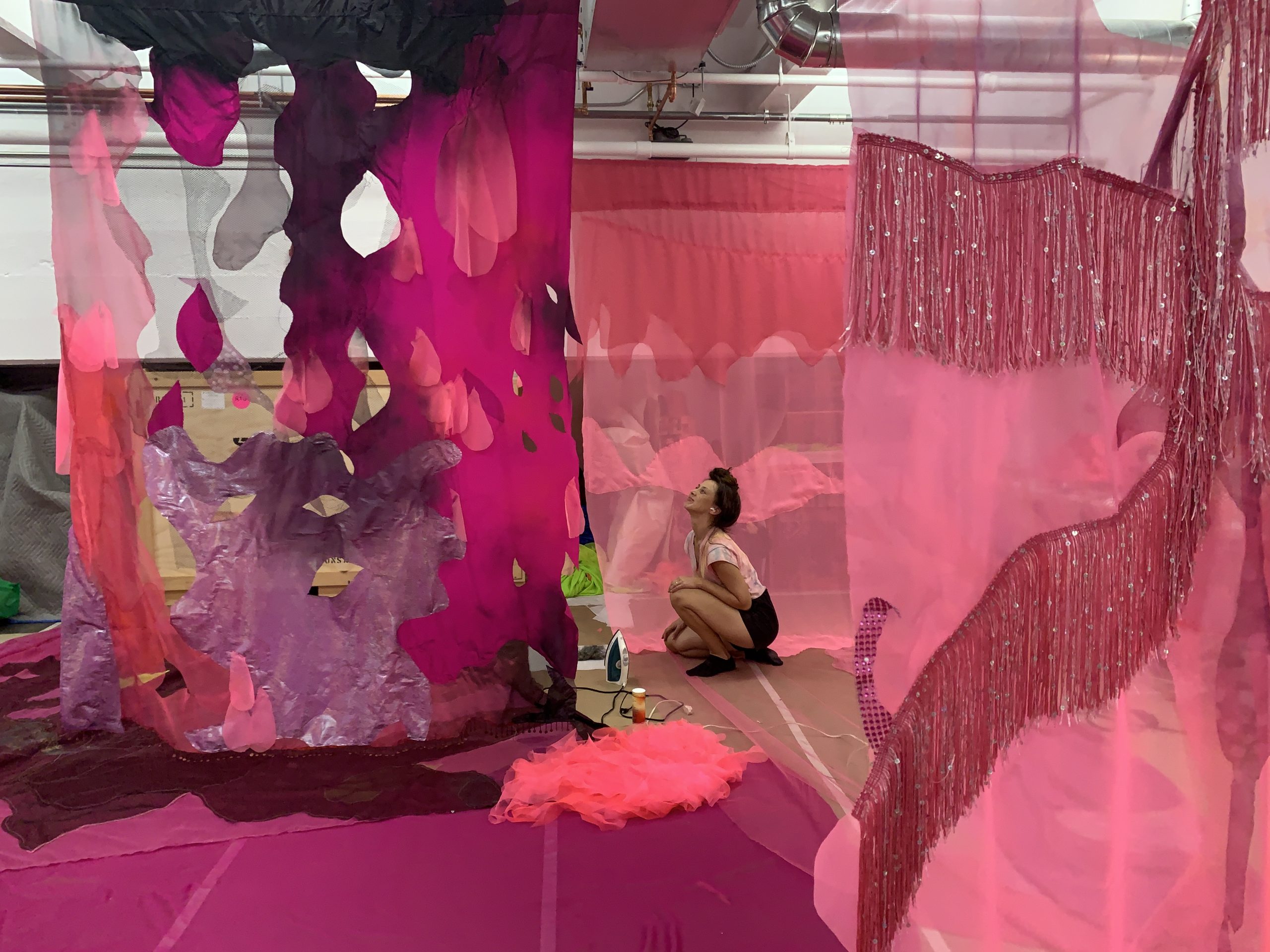 At what point does the world unfold?
68
68 people viewed this event.
Artist: Sara Jimenez
Location: Arts Quad by Goldwin Smith Hall
Dates: Sep 16-Oct 27, 2022
Registration: None
At what point does the world unfold? is a new installation by Sara Jimenez on Cornell's Arts Quad. Jimenez has taken the main elements of Goldwin Smith Hall's Beaux Arts architecture and individually abstracted and fabricated them to scale. The installation goes across part of the Arts Quad, partially tied to trees, and partially rooted into the ground. Each architectural element is made of brightly colored textiles, with printed floral patterns and ornamentation. The plant and flower images refer to local species in the landscape prior to Cornell's presence.
Jimenez is interested in creating an installation that reorients the viewer's assumptions of history through visual strategies of disrupting the familiar. The Arts Quad is a central hub at Cornell, housing the Arts and Sciences. It is also where Cornell was first built. The central building of the Arts Quad, Goldwin Smith Hall, is a Beaux Arts, neoclassical building, named after a former professor who has since been called out as holding racist and misogynist beliefs. As it currently stands, the visual orientation signals empire, whiteness, maleness. Jimenez is interested in deconstructing the authoritative architectural elements and transforming them into new fantastical forms that disrupt their lineage. Jimenez is interested in calling into question the histories and spaces prior to the institution, as well as questioning how spaces welcome certain bodies while excluding others.
The title comes from a line from Sara Ahmed's text "A Phenomenology of Whiteness" as she speaks about the phenomenological and racial relationship between bodies and their surroundings.
This event is part of the 2022 Cornell Biennial, curated by Timothy Murray and sponsored by the Cornell Council for the Arts. The Biennial features the works of 40+ artists throughout Cornell's Ithaca campus from July through December 2022. See all of the artists and events here.