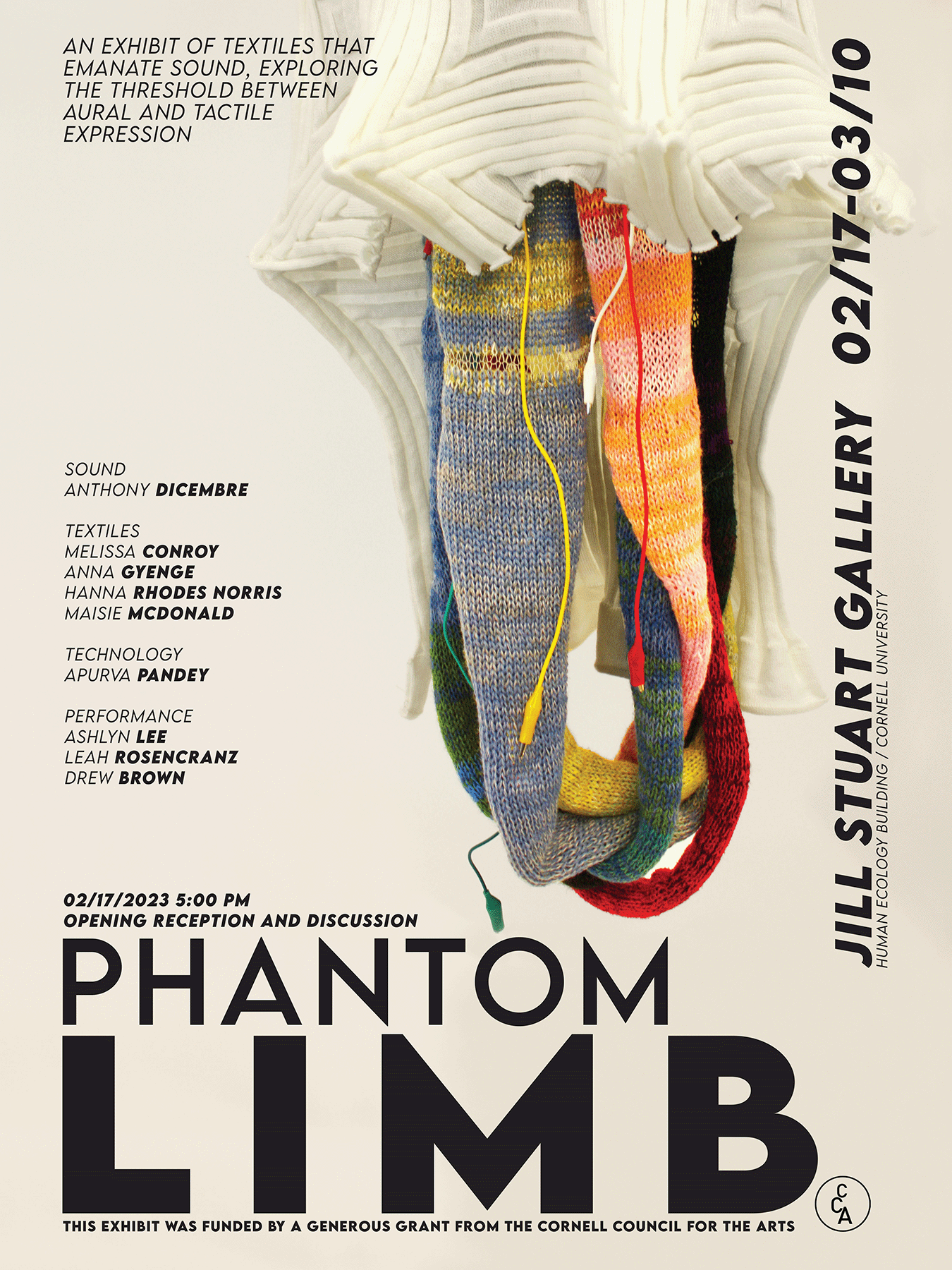 Phantom Limb
16
16 people viewed this event.
Melissa Conroy
Textiles are often used in music studios to buffer sound. Fibers make good sound barriers. This common knowledge makes the idea of producing sound from textiles a non sequitur. And yet, we were interested in exploring what kinds of sounds we could elicit from the tactile properties of knit textiles. Our approach placed the emphasis on the artistry of a dialogue between the textile and synthesizer, supported by our knowledge of knit textile structure and electronic synthesis.
What we discovered is that knit textiles have the ability to control a range of sounds and that the sounds each piece emanates is different based on several variables including the size of the piece, the yarn used and the knit structure. Our instruments do not resemble traditional instruments. They depend upon the specific properties of knit textiles to speak. Stretching, crumpling, and twisting our pieces initiates a range of aural responses. They are tonally mysterious, hard to control pieces that often sing a sweet mournful song shifting from low notes to a crashing crescendo of high notes, like a nightingale.
Music and sound are as omni-present as textiles. Music often fills the background, while other times it is impossible to ignore. Music has the ability to fill sensorial voids. Textiles stimulate our sense of touch and sight, while music stimulates our sense of hearing. We have brought these three senses together, to create a responsive conversation between the tactile, visual presentation of textiles and the aural presentation of sound. Our inquiry has focused upon ways to bridge the gap between textiles and music to create unique musical moments via the physical manipulation of a textile. Touching, crumpling and stretching the textile influences the music being generated. When they disengage the instrument returns to its non-stimulated generative state. The interaction becomes a metaphor for our relationships. We engage and disengage. We appear and we leave. When we are there, we're connected as a body's parts are connected. When we're gone, we're a phantom limb. The narrative of this project is the quest for something lost. How can sound bring new meaning to an art form dependent upon texture, knit structure, and visual pattern? How can a textile impart new personality onto sound? Will the combination of these art forms create something whole, or something fragmented? From the beginning, our task has been to navigate between two disparate disciplines. We set up a conversation between music and textiles, finding common ground and differences, and discovered along the way, a new way to make instruments.
Opening Reception & Discussion: February 17, 2023 at 5:00 PM
Exhibition: February 17 through March 10, 2023