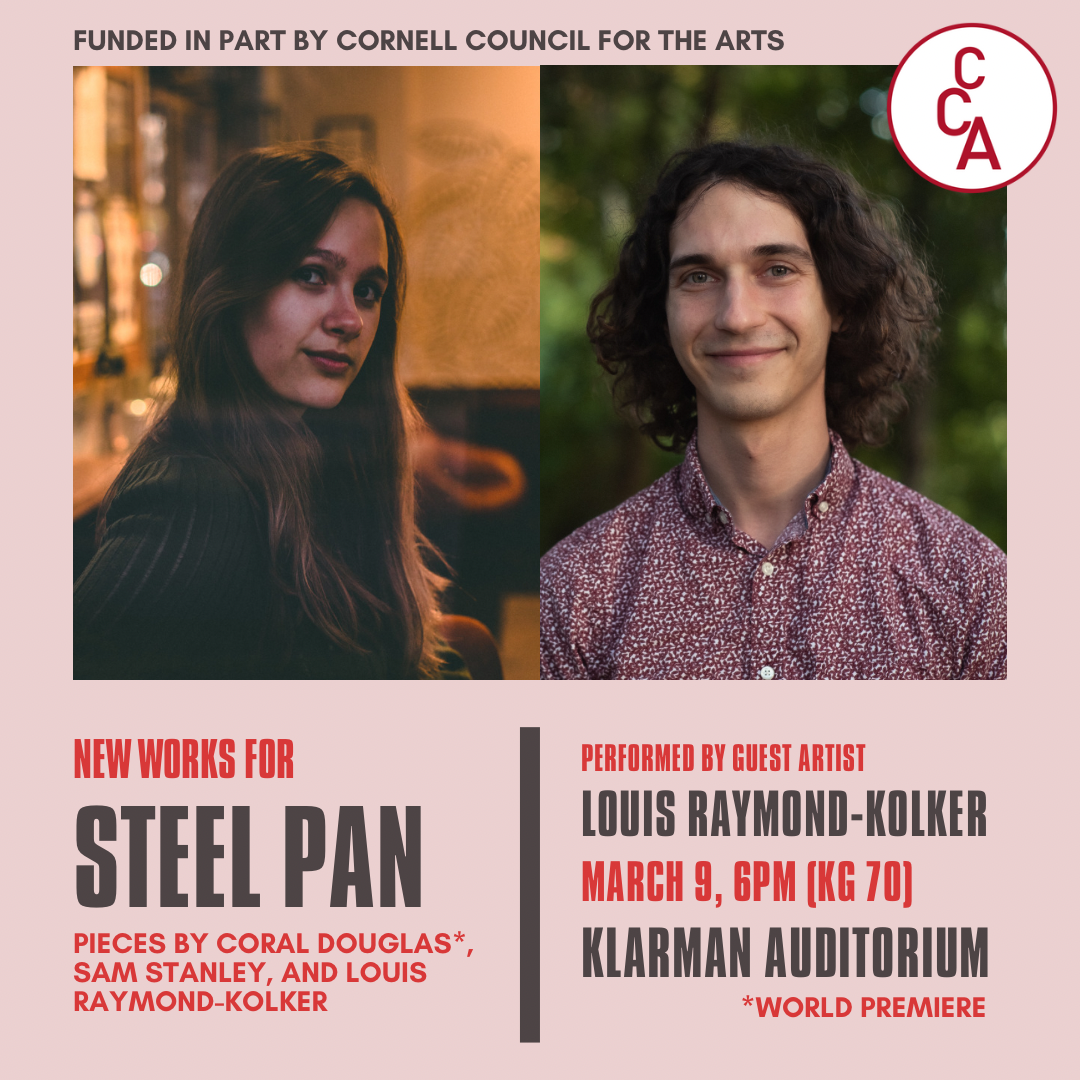 New Pieces for Steel Pan: Louis Raymond-Kolker
15
15 people viewed this event.
Hosted by Coral Douglas, CCA Grant Program Awardee
The steel pan is no stranger to individuality.
Beginning as oil barrels before taking their final shape, steel pans are precisely pressed, hammered, and heated in order to create a dome shape encasing multiple octaves of pitched nodes. This process creates a timbre unlike any other idiophone.
Double second steel pans (the alto-voiced steel pans in the typical steel band) hold a few key physical acoustic properties that differ from typical percussion instruments: mode localization, nonlinear vibrations, mode couplings and energy exchanges. Practically speaking, the waveform of a steel pan strike is unlike most other melodic instruments and is much closer to tuned gongs.
Using these acoustic fundamentals, Coral Douglas (they/them) wrote a piece for double seconds (with auxiliary percussion and fixed media) to intentionally contrast the steel pan's "real" acoustics with electronically altered acoustics to create a hybrid, post-instrument sound. The piece, named machine learning, spans five movements, allowing the steel pan to showcase its acoustic footprint through sparse and dense textures alike.
The steel pan is often a stranger in the Western concert space.
Speaking with Louis Raymond-Kolker (he/him) over the past year, Douglas had the opportunity to learn about the work Louis is actively contributing to founding educational spaces surrounding pans and steel bands. As an instructor at Winston-Salem State University as well as High Point University, Louis instructs a large population of students excited by the possibility of transcending the Western percussion canon.
Louis Raymond-Kolker will premiere Douglas' machine learning on March 9 in Klarman Hall's auditorium, alongside pieces from himself and Sam Stanley.
The program is as follows:
– under a hazy moon by Louis Raymond-Kolker (2016)
– show the way by Sam Stanley (2022)
– machine learning by Coral Douglas (2023, world premiere)