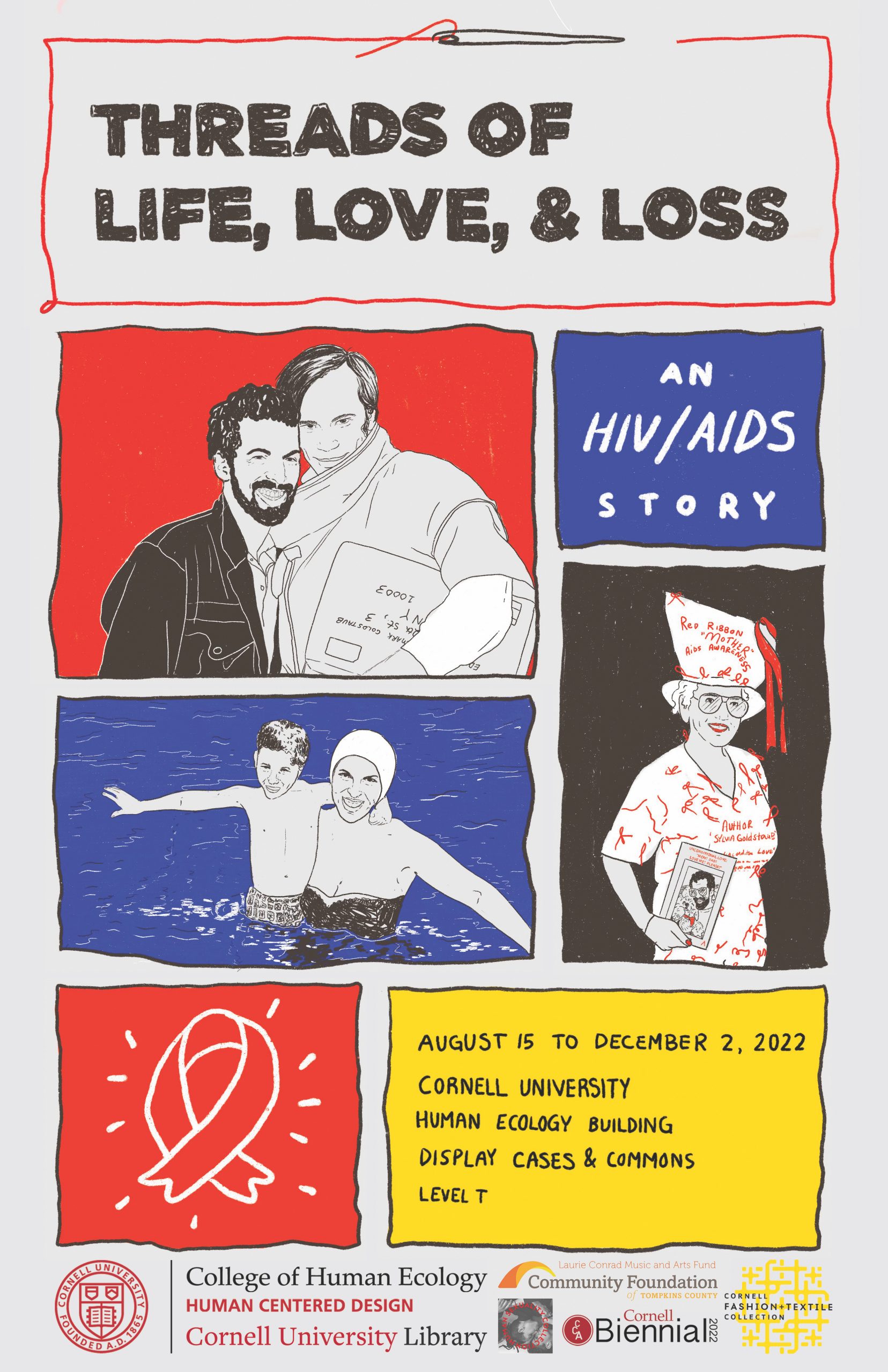 Threads of Life, Love, and Loss: An HIV/AIDS Story
57
57 people viewed this event.
Artist: Cornell Fashion + Textile Collection
Location: Human Ecology Building, Level T Display Cases
Dates: Aug 15-Dec 2, 2022 (Reception Oct 13, 5-7p)
Registration: None
This exhibition reanimates the lives of two lovers and their community through fashion, arts, activism, and archives they created to navigate uncertain futures amidst the ongoing HIV/AIDS pandemic. The multimodal exhibit centers Mark Goldstaub (1951-1988), a Jewish gay man who worked in performing arts and became HIV-positive in the mid-1980s, along with his partner Edmund Wojcik (1955 – 1995), their larger community, and the ideological transformation of Mark's family. Of particular focus is his mother, Sylvia, who initially rejected Mark's sexuality but later embraced it and became invested in HIV/AIDS activism and archiving its history. The archive comes alive through curatorial praxis and documentary filmmaking, where catalogued pasts become unfolding futures that (re)connect the living and the dead through extant fashions, activist artifacts.
Threads of Life, Love, and Loss is co-sponsored and funded by the Laurie Conrad Music and Arts Fund, the Community Foundation of Tompkins County, Cornell University Library, The College of Human Ecology, the Cornell Fashion + Textile Collection, and the Cornell Council for the Arts.
This event is part of the 2022 Cornell Biennial, curated by Timothy Murray and sponsored by the Cornell Council for the Arts. The Biennial features the works of 40+ artists throughout Cornell's Ithaca campus from July through December 2022. See all of the artists and events here.