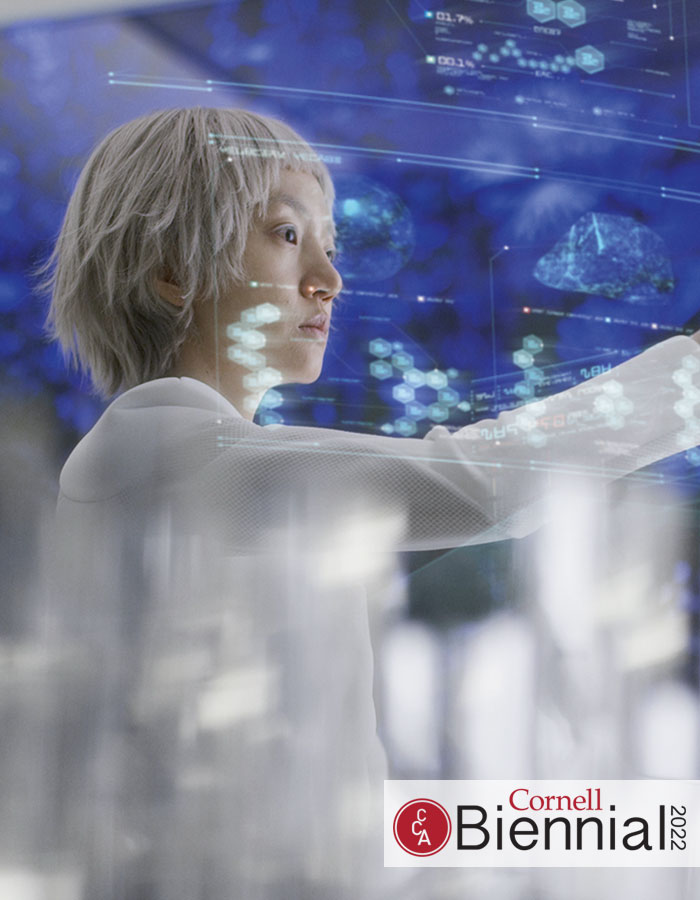 The Ways of Folding Space & Flying
57
57 people viewed this event.
Artists: Moon Kyungwon and Jeon Joonho
Location: Johnson Museum Picket Family Video Gallery
Dates: Oct 19-Nov 13, 2022, Tue-Sun 10a-5p
Registration: None
Moving from global warming bunker to virtual highway, Moon Kyungwon and Jeon Joonho situate their protagonist in a digital archival bubble that floats free of a future Venice inundated by warming seas. Revised from their 2015 Venice Biennale multi-channel installation, this version of The Ways of Folding Space & Flying explores an archaeological quest into human civilization by interweaving history with visions of the ecofuture. Within the gleaming, antiseptic pod of a complex digital interface, the surviving protagonist is empowered by access to an imbedded memory chip for entry into the data banks and virtual scenarios that constitute its continued existence. The title of the project stems from the Korean words chukjibeop and bihaengsul that reflect the human desire to surpass the physical and perceived barriers and structures that bind us, despite the apparent absurdity of such imaginings. Originating from Taoist practice, chukjibeop means a hypothetical method of contracting physical distance, while  bihaengsul refers to a supernatural power to levitate, fly and travel across time and space. The stellar project is part of the artists' ongoing inquiry into making future sense via fantasy, which they perceive as a fundamental function of art in our increasingly uncertain and precarious environmental and socio-political landscape.
This event is part of the 2022 Cornell Biennial, curated by Timothy Murray and sponsored by the Cornell Council for the Arts. The Biennial features the works of 40+ artists throughout Cornell's Ithaca campus from July through December 2022. See all of the artists and events here.